Alicia Garza Net Worth/Age/Height/Career/Wiki
Alicia Garza (born January 4, 1981) is an American civil rights activist and writer known for co-founding the international Black Lives Matter movement. Garza frequently appears as a speaker and facilitates the organization's monthly show on SiriusXM Insight #121.
In July 2013, Garza, Opal Tometi, and Patrisse Cullors co-founded Black Lives Matter, an online platform that connects black people from around the world who experience anti-black racism and state violence.
Garza has also worked as the Special Projects Director for the National Domestic Workers Alliance, and was previously executive director of People Organized to Win Employment Rights in Oakland.
A self-described queer woman who prefers the gender-neutral pronouns they/their/them, Garza wrote an open letter to white people on behalf of Black Lives Matter following the 2017 Unite the Right rally.
Relationship
What is the relationship status of Alicia Garza?
After dating for almost 5 years, in 2008, Alicia got married to Malachi Garza, a transgender man. She is quite vocal about their personal life. His husband is also a community activist.
Alicia garza Total Net worth
What is the Net Worth of Alicia Garza?
Alicia Garza's net worth is around $$1 Million – $3 Million. As she is an influencer and an activist, she is active on Twitter, Instagram, Facebook.
Trivia
The birthday of Alicia Garza is on January 4.
Alicia is 40 years old.
She has written on many social justice topics sponsored by many outlets like HuffPost, The Guardian, and many more.
Garza protested when a police officer was killing a teenager named Michael Brown.
In 2020, a celebration of Black History Month was organized where Alicia Garza gave a speech to a crowd of 200 students for that election.
Alicia is the wealthiest activist in California.
In a 2018 interview with "The New York Times", Garza talked about their support of the #MeToo movement and desire for increased equality across all social classes.
Garza was born in 1981 and grew up in California. They have been involved since high school in environmental justice activism, queer liberation activism, and anti-prison organizing.
Alicia Garza Overall Net Worth 2022
| | |
| --- | --- |
| Name | Alicia Garza |
| Profession | Americàn writer, activist |
| Age ( in 2022) | 40 years old |
| Net Worth In 2022 | $5 Million |
| Monthly Income | 30 Lakh+ |
| Annual Income | 4.5 Crore |
| Last Update | 2021 |
Alicia Garza Net Worth In Last 5 Years
| | |
| --- | --- |
| Net Worth In 2022 | $5 Million |
| Net Worth In 2021 | $4.9 Million |
| Net Worth In 2020 | $4.8 Million |
| Net Worth In 2019 | $4.7 Million |
| Net Worth In 2018 | $4.6 Million |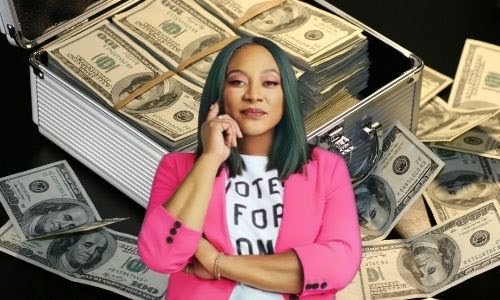 Alicia Garza FULL Biography
| | |
| --- | --- |
| Real Name | Alicia Garza |
| Other Name | Alicia Schwartz |
| Birth Place | Los Angeles, California, United States |
| Birthday | 4 January 1981 |
| Age | 40 years old |
| Height | 5 feet 7 inches |
| Occupation | Activist, Writer |
| Sun Sign | Capricorn |
| Nationality | American |
| Spouse | Malachi Garza (m. 2008) |
| Education | University of California, San Diego (BA) |
| Height | 5 feet 7 inches (175 cm) |
| Weight | 57 kg or 126 lbs |
| Race | Multiracial |
| Nationality | American |
Alicia garza Education Life:
Garza attended California Polytechnic State University in San Luis Obispo, majoring in journalism and political science; they later completed a master's degree program at Mills College in Oakland, where they studied public policy with a concentration on social justice and urban studies.
Garza is the Executive Director of the National Domestic Workers Alliance (NDWA), which organizes women who work in "informal economies" (such as domestic workers, farmworkers, day laborers, and other occupations that tend to be dominated by poor people).
Garza joined NDWA as a staff member in 2009. Garza is part of the We Belong Together campaign, which seeks to "transform the conversation on immigration reform and public policies" by amplifying immigrant women's voices and building a broad-based coalition.
Garza was involved in creating both the #BlackLivesMatter and #SayHerName movements. Garza co-founded #BlackLivesMatter in 2013, along with Patrisse Cullors and Opal Tometi, after the acquittal of George Zimmerman in the shooting death of black teen Trayvon Martin that year; it became one of the most visible and popular social movement groups in the United States by 2014.
Garza has said that the movement came about in response to multiple instances of violence against black people by law enforcement and others.
alicia garza Contributions:
Garza writes for "The Guardian", published an op-ed in "The Washington Post" responding to Donald Trump's election, and has been a regular guest on news programs such as MSNBC, C-SPAN, and "The Tavis Smiley Show". Garza has given talks at public events such as Netroots Nation, the National Conference for Media Reform, Facing Race Conference, the WORLD Policy Conference, the Left Forum, Community Galvanizing Night #2: On Intersectionality in Austin, Texas and the Baltimore Transgender Alliance.
In an op-ed written in the wake of George Zimmerman's acquittal for the shooting death of Trayvon Martin, Garza said that "the American public witnessed an act of racial profiling, followed by murder. And then the judicial system responded with what can only be described as willful ignorance."
The August 2014 killing of Michael Brown by police officer Darren Wilson in Ferguson, Missouri inspired Garza and other activists to take advantage of social media tools to raise awareness about related issues.
That October, following the announcement that no charges would be filed against Wilson in Brown's death, Garza wrote an op-ed in "The Washington Post" in which she said that "this country was founded on the belief that black people were three-fifths of a person, and that has never really changed" and that "this system was not built to protect us. It was built on our backs."
Alicia garza Unknown Facts:
In 2016, Garza wrote an op-ed for the "Los Angeles Times", published in the wake of the Baltimore protests over the death of Freddie Gray. Garza said that "the anger we see in the streets today is the same anger we're seeing over decades of injustice and inequality" and wrote that she "cannot separate this latest wave pain from all those other waves – generations of fear and terror, trauma and loss – because they are one and the same."
In an interview with Amy Goodman of "Democracy Now!" in June 2016, Garza said that "2016 would not be the tipping point" but was "the year when we really started to say, 'Enough is enough.'"
Garza gave a TED talk titled "Why Black Lives Matter" in February 2016. She said in this speech that people should speak up about police brutality instead of staying silent because "silence is akin to violence."
In a February 2016 op-ed for "The Nation", Garza argued that the U.S. had not moved on from slavery, writing that "Black people are still very much trapped in a system that was designed precisely to cage us" and that "we are living with that legacy today."
In a February 2016 article for MSNBC, Garza said that it was important to fight against the notion that Black Lives Matter is anti-police and wrote in support of an ordinance proposal in Los Angeles that would require officers to report every time they point their gun at someone.
She criticized Donald Trump's comments following the death of Srinivas Kuchibhotla, an Indian immigrant who was shot and killed by Adam Purinton. Garza compared the political climate following the shooting to that surrounding Trayvon Martin's death, writing that "the rules are different for black people."
Garza criticized Obama's remarks in 2016 about problems with policing being local problems in an op-ed for the "New York Daily News", arguing that "the federal government's responsibility to protect communities from violence by state actors is clear" and writing that Obama "continues to ignore this fact."
In 2016, Garza wrote an article for Mic in which she criticized Hillary Clinton's remarks about Black Lives Matter being a distraction. She responded to Clinton's statement that the U.S. is great because of its flaws by writing that "we need a political leader who sees us as human beings, not charity cases."
Garza has published work on AlterNet, the Huffington Post Blog, Truthout, Feministing The Nation Magazine, Racialicious and other outlets. Her essays have been included in two anthologies: "This Bridge We Call Home" (2011) and "The Feminist Utopia Project" (2013).
Garza wrote the book "", published by City Lights in 2015. Garza discusses race politics in San Francisco, police violence in black communities, queer resistance to marriage equality strategies, climate change, capitalism's displacement of people of color from their homes due to gentrification, anti-black racism within the gay rights movement, sex workers' liberation movements, transphobia among lesbian feminist communities, and other topics.
Garza is a part of several organizations that work towards social justice including but not limited to Black Lives Matter which was cofounded with Patrisse Cullors and Opal Tometi.
Southerners on New Ground (SONG) which is an organization that "creates space for lesbian, gay, bisexual, transgender and queer Southerners to build power across lines of race, class, gender, sexuality & geography for a healthy South rooted in self-determination"; The National Domestic Workers' Alliance; BOLD Organizing; Freedom Side; Black Organizing for Leadership and Dignity (BOLD); the NAACP. She has served on the board of directors of the Transgender Law Center.
Garza also serves on the advisory boards of Race Forward: The Center for Racial Justice Innovation; CultureStrike; the Ella Baker Center for Human Rights; We Are Here Movement; Bay Area Police Watch; Critical Resistance Oakland; Beyond Diversity Resource Center.